About Rayco Concrete Lift-N-Level
Affiliations & Accreditations


If you're looking for quality concrete lifting and leveling services using proven PolyLevel® technology, you've come to the right place. Rayco Concrete Lift-N-Level specializes in residential PolyLevel® to give homeowners the beautiful property and peace of mind they deserve. No longer will cracks or uneven flooring plague your home when you choose to work with our trained technicians!
Rayco Concrete Lift-N-Level has been in business since 1977, and we have a long history of success. We began as an oil and gas drilling company that made the transition to concrete lifting to better serve local homeowners with services we felt were lacking in the area. All of our team looks forward to helping you restore your concrete slabs!
About the Owner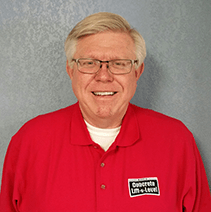 Billy Clark has almost 40 years of leadership experience at Rayco Concrete Lift-N-Level.
Billy Clark, owner of Rayco Concrete Lift-N-Level, has many years of experience in a leadership role at the company. In 1977 he graduated from the University of Arkansas with a BSBA in Accounting. He next began working with his father in the family business, Rayco Tool. After his father's retirement in 1991, Billy purchased the company.
Billy and his qualified sales and installation team are eager to assist homeowners in maintaining their valuable property assets through the Lift-N-Level process. Billy's dedication to Rayco Concrete Lift-N-Level's success and his flexibility in giving customers the services they need are what have allowed us to prosper for all these years!
Outside of work, Billy enjoys spending time with his wife of 32 years, Lesley, and his three sons, Ty, Will, and John, in his Fort Smith home.
Our Mission
Rayco Concrete Lift-N-Level will provide, with integrity, quality service and products to all customers. We believe in giving our best effort on every job to ensure 100% customer satisfaction and well being.
Looking for a price? Get a no cost, no obligation free estimate.